SF Large Flow Crinding Mill
2015年06月01日
The latest technology of special dynamic high-speed centrifugal separator,with super large area and superfine mesh screen,excellent anti clogging and

super wear resisting




Special design of irregularly shaped grinding disc, high grinding efficiency helps to produce with very narrow particle distribution, finenss can reach

nanoscale, Polyurethane,zirconia,die steel(tungsten steel) for options, which reduce pollution to the material,meanwhile enhance durabillity.




Overall processing of the double helix and cooling channels for the grinding cavity, with double layer cooling configuration,realized 2 times more cooling

efficiency compared to the normal machine. Polyurethane,zirconium oxide, silicon carbide,steel (tungsten steel) are optional meterials for the grinding cavity.




High precision EagleBurgmann double mechanical seal and lip seal (cartridge mechanical seals),lmported match perfluorinated sealing ring,with high

requirement,standardized process and installation technology,ensure the machine seal safe and durable, Self-circulation machine seal coolant design

solves the machine seal cooling problem, dissolve with the material safely and reliably.




Use frequency changer,according the material feature,match the most suitable revolving speed pressure, Material temperature, machine seal coolant level etc.

Use advanced instrument safely measure and control multi parts such as the feed pressure, Material temperature,machine seal coolant level etc.

Optional human-machine interface touch-screen control panel, PLC control system, realized pre-design function of operation mode, omnibearing display and record

the operation parameter of the equipment. Normal of explosive-proof controller for selection.




Wide range suitable for industries such as ink, paint, coationg, mill base, pigment, pesticide,medicine,ceramics,magnetic materials etc.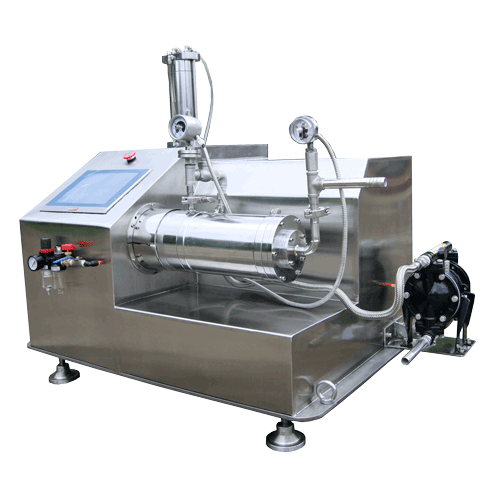 | | | | | | | |
| --- | --- | --- | --- | --- | --- | --- |
| Type | SF-2 | SF-5 | SF-20 | SF-30 | SF-50/60 | SF-100 |
| Main unti power(kw) | 3 | 5.5 | 18.2 | 22/30 | 37~45 | 55~75 |
| Barrel capacity(L) | 2 | 5 | 20 | 30 | 50/60 | 100 |
| Pump flux(L/min) | 0.1~0.5 | 0.17~1.7 | 0.8~4.2 | 1.7~8.5 | 3.5~17 | 4.2~42 |
| Production capacity(L/h) | 6~30 | 10~100 | 50~250 | 100~500 | 200~1000 | 250~2500 |
| Milling medium(mm) | 0.3~1.0 | 0.3~1.2 | 0.3~1.5 | 0.3~2.0 | 0.3~2.0 | 0.3~2.0 |